Yesterday was the
Met Gala
,
officially known as the Metropolitan Museum of Art's Costume Institute Gala and unofficially known as The Oscars Red Carpet of Fashion. This year's theme was
Punk: Chaos to Couture
so I was really excited how the A-list #celebrities implement this.
Click through nearly all the photos I am a little bit disappointed because there were only few brave stars showing their
sophisticated
punk side. The others were simply elegant. So I divided my post to present 'real' punks and some beautiful dresses :)
I my opinion punk style means: leather, black and pink, stripes or plaid, mesh, studs, spikes and safety pins, ripped tights, special hairstyles (spiky, dyed or Mohawk) and strong
make-up
. So let's see who met these:
I love Sarah Jessica Parker in this
#outfit
(Giles and Louboutins). Can't stop admiring her Philip Treacy headpiece.

The other great punk was Madonna. What a surprise :) She wore Givenchy.


First I thought this woman is Gwen Stefani but no, she is
Julie Macklowe in Zang Toi. By the way Gwen was
extremely
solid this evening...
I really like Donatella Versace's own design and Cara
Delevingne's Burberry and spiky outfits.
Anne Hathaway, Miley Cyrus and Ginnifer Goodwin did their best too. Anne wore vintage Valentino and dyed her hair, Miley were in a mesh Marc Jacobs a
nd
Ginnifer was in Tory Burch. I really like Miley's hair and Ginnifer's

eye-shadow

.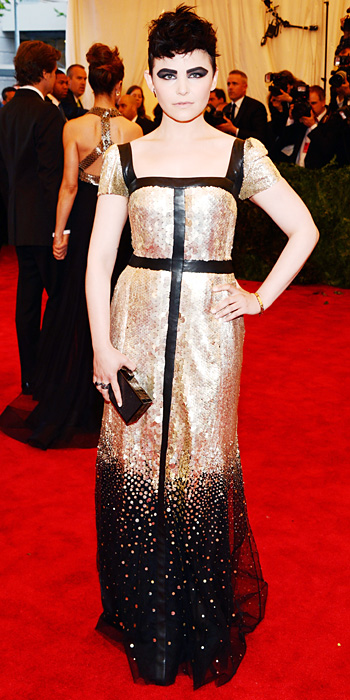 Maybe it's a little bit too much but I think this is how a punk looks like... by
Zandra Rhodes.
This how the one and only, mother of punk fashion, Vivienne Westwood dressed for the evening (with Lily Cole). I excepted more...
Although the greatest disappointment was the organiser of the event, Anna Wintour who wore a Chanel floral print dress. But if I re-think it, she wore a colorful dress and smiled... :)
Here are some solid punks I liked:
Sienna Miller in Burberry. She took it easy, just threw a studded biker jacket over her lovely white dress.
Christina Ricci in Vivienne Westwood Couture
Jessica Biel in Giambattista Valli
Lily Collins in Moschino with Jamie Campbell Bower, his outfit is great
Anja Rubik in Anthony Vaccarello
Chloe Sevigny in Proenza Schouler and
Nicole Richie in custom Topshop. Chloe and Nicole had scary hair...
Blondies: Debbie Harry and Chris Stein
Julianne Moore in a Balenciaga by Alexander Wang dress
Cameron Diaz in a beautiful royal blue Stella McCartney dress and spiky belt
Some cel
ebrities misunderstood the theme and wore baroque gowns...
Giovanna Battaglia in Dolce & Gabbana
Lauren Santo Domingo in Dolce & Gabbana
Ashley Greene in Marchesa
And finally here are my favourite gowns if I take no account of the punk theme:
Naomie Harris in Donna Karan Atelier
Uma Thurman in a lime Zac Posen. I simply love Zac Posen...
Kirsten Dunst in Louis Vuitton. This
feathered
skirt part is really exciting.
Rosie Huntington-Whiteley in a breathtaking and sexy Gucci
Katie Holmes in Calvin Klein Collection
Emmy Rossum in Donna Karan Atelier
Miranda Kerr in Michael Kors
Carey Mulligan in Balenciaga. I love her T-strap, pointed toe pumps
Jennifer Lawrence in Dior and the iconic veil
You can find some more photos in my Red Carpet pinterest board.